This is a sponsored post written by me on behalf of Straight Talk Wireless for IZEA. All opinions are 100% mine.
When you think of a good wireless phone plan, you want to have the best phone, best features and know ahead what you are paying for.
Straight Talk Wireless is a great phone plan available at Walmart and it offers $45 Unlimited Talk, Text & Data.
Why Straight Talk Wireless?
Check out Straight Talk Wireless at Walmart today & reduce your phone plan cost in half! You can get the same smart phones and iPhones you love, on the same networks, but without the over-priced plan. You can get up to 3GB of high-speed data, unlimited talk and unlimited texts for just $45 a month. That is more than any other $45 plan out there!
This is how much you can do with a 3GB of data:
105 hours of Pandora
2,460 webpage views
41,900 emails
1,920 Flickr image uploads
153 hours of Facebook browsing
85 hours of Google Maps usage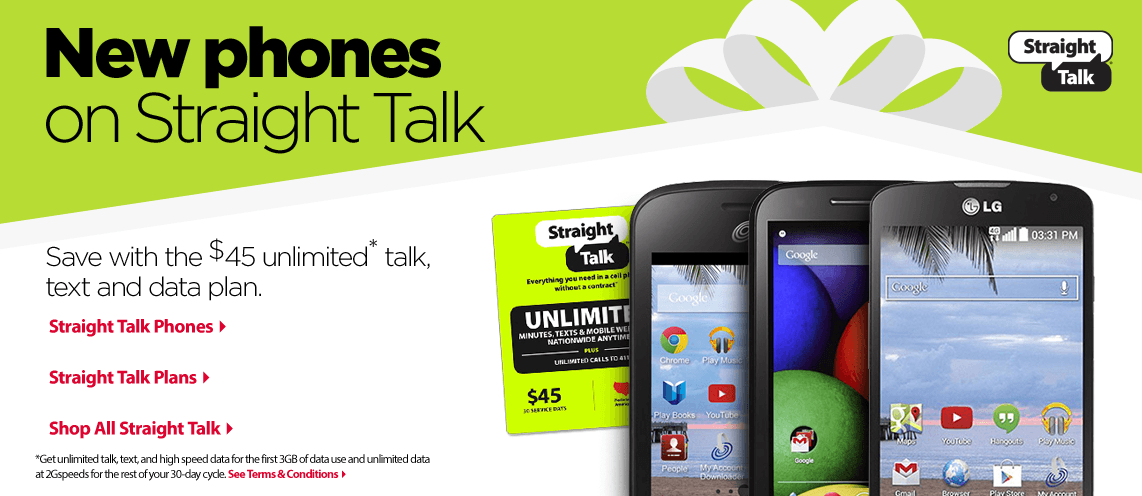 Straight Talk Wireless allows you to keep your phone, your phone number and your network with the Straight Talk Bring Your Own Phone program. Straight Talk Wireless has nationwide coverage on America's largest and most dependable Networks.
Straight Talk Wireless has options for adding unlimited international talk and a large variety of other options to customize your phone plan.
No-Contract Plans!
It is always a pain to be stuck in a phone contract. You want to do more or get more deals, but you can't. When I got my first phone plan I had to stay with it for 2 years and the cost was high. If I wanted to cancel it, I would pay penalties, which was very inconvenient.
That's why Straight Talk Wireless offers No-Contract phone plans. You can pay-as-you go for your phone plan, and have flexibility and convenience. This sounds like a perfect plan for the first time phone owners in your family. For example, it can help your teenager to get responsible with using his own phone.
Visit Walmart today and get Straight Talk Wireless!